Are you Considering to Study in Australia and looking to explore Visa option available for study in Australia. We can assist you here to show different visa sub type available for student visa that might suits you? Students who is looking to study full time courses like bachelor, Masters including VET (Vocational Education and Training) Courses, ELICOS, Post Graduate Degree, Higher education can apply for this Student Visa subclass 500.
With this Subclass 500, International student can be allowed to temporary stay in Australia to undertake full time education and training. Stay in Australia depend on type of course and its length will the length of stay or visa given by Visa officer. With this Visa, you can not only stay for duration of your Visa but as Student you can work 40 hrs fortnightly and during school break you can work full time. Travel in and Out from Australia with valid visa.
To Apply for this Visa, the minimum requirements are set out below by immigration of Australia :
Applicant must enrolled in full time course at a provider who are recognized by CRICOS. This means student should provide COE for intended courses while applying for Student visa in Australia.
Must hold Overseas Student Health Cover (OSHC)
Must be 6 years or older
Evidence of Financial Capability. Applicant must show access to sufficient funds that will cover course fee, cost of living and return air fare.
must have the required level of English language proficiency with application of your visa unless not applicable
Applicant must meet requirements of Health and character. As a part of Visa application process applicant need to undergo health examinations. Apart from it, Applicant need to answer some character related questionnaire  used to assess applicant character during visa process.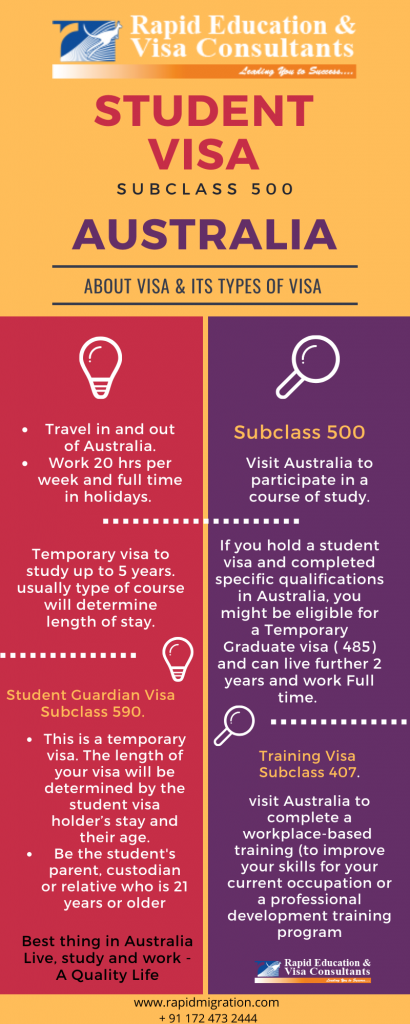 Rapid Migration is Registered Mara agent for Australia and New Zealand and can be your best and Trusted Education and Visa provider. 
✅ Free Consultancy and Admission for Student in Australia Only.
✅ Hassle free process and High success rate
✅We can help in securing Offer letter, placement with reputable universities and Colleges.
✅ More than 15+ years of experienced
✅ One stop Shop for Student Visa to Skilled Migration Visa
✅ Trusted, Secure and reliable.
✅ Over 50,000+ satisfied Clients and 10000+ Success stories.
Get in touch with us today on +61 3 966 30944 or Click on Link to Contact us